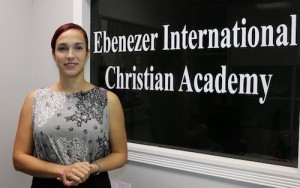 Greisys Cue is a Trustee and Chairperson of Ebenezer International Christian Academy. The consummate professional, Ms. Cue has extensive experience since 2004 in secondary school operations, Latino educational advancement, and educational fundraising.

She is the first woman Trustee and Chairperson in the EICA's history. During her stint, she has provided immeasurable leadership and direction to all levels of our high school e-family. It is because of her inexhaustible efforts that the growth and accreditation of the school continues to excel. She has gained a reputation for excellence in education as a supporter of the continuation of training for non-traditional learners.

What is her focus? She serves the mission's 2006 mandate when she opened the school: "The mission of E.I.C.A. is to reach its community to equip students through quality education with the necessary skills to pursue excellence through Christ in every area of life." On the e-campus platform, Chairperson Cue has organized a series of innovative programs for students and faculty. She strives to increase educational, corporate and community relations. Her academic interests have included student retention for non-traditional local high school youth, foreign, and adult students. She challenges the staff to create curricular support structures in alternative learning modalities. She implements plans in strategic form for effectiveness and learning outcomes which transform every student's lives.

A strong community friend, Ms. Cue is known for her community activities. She is active in a host of local organizations serving the South-Florida community. Ms. Cue is a devout member of La Nueva Iglesia Cristiana del Doral church. She is married and mother of two.
Our Founder
---
Principal's Corner
---